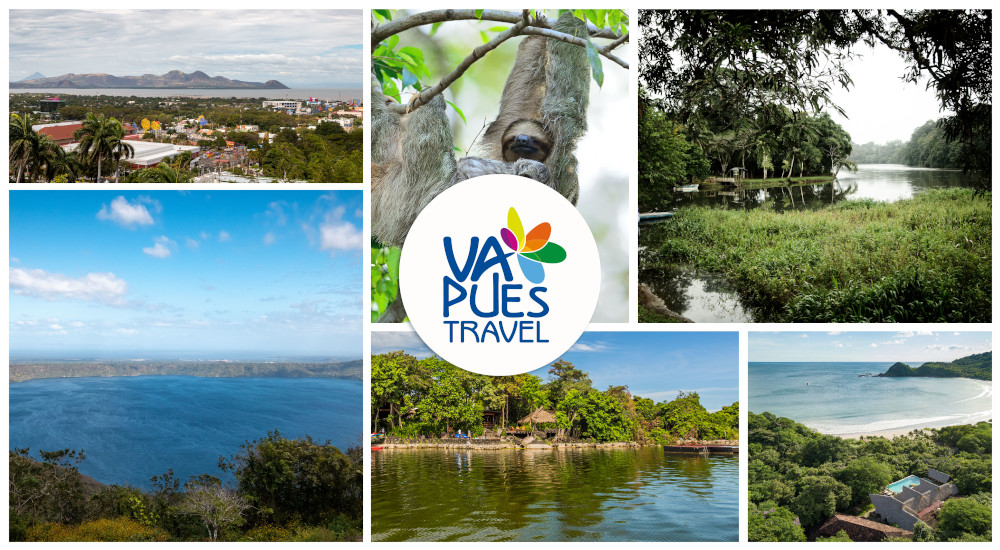 Discover the Agua in Nicaragua
Nicaragua is a land of lakes, volcanoes and unique ecosystems, flanked by both the Caribbean Sea and the Pacific Ocean. Over the course of this 10-day tour you'll experience the beauty and diversity of this country, travelling to the wild jungles around the San Juan river, the spectacular Apoyo Volcano lake, a luxury hideaway on the Pacific Coast, and a private island in the vast Lake Nicaragua.
You'll travel privately throughout, staying in stylish hand-picked accommodation and with a selection of experiences included which will give you an insight into Nicaragua's history, culture and incredible nature.
| Day | Destination | Hotel |
| --- | --- | --- |
| 1 | Managua | Hotel Los Robles |
| 2 | Bartola | Guacimo Lodge |
| 3 | Bartola | Guacimo Lodge |
| 4 | Bartola | Guacimo Lodge |
| 5 | Apoyo Lagoon | Pacaya Lodge y Spa |
| Day | Destination | Hotel |
| --- | --- | --- |
| 6 | Apoyo Lagoon | Pacaya Lodge y Spa |
| 7 | San Juan del Sur | Morgan's Rock |
| 8 | San Juan del Sur | Morgan's Rock |
| 9 | Isletas de Granada | Jicaro Ecolodge |
| 10 | Isletas de Granada | Jicaro Ecolodge |
---
Pickup point: Managua Airport - International Flights

Welcome to Nicaragua! Upon arrival at the Augusto C. Sandino International Airport in Managua you will pass through immigration and customs. The process is rather straightforward and waiting times are usually not long. All foreigners entering the country are required to have a passport valid for at least six months and will need to purchase a tourist visa for $10 USD; this payment must be made in US dollars (cash). Please note that damaged bills are not accepted. Leaving the customs area please turn left at the next possible turn, the glass doors give way to the street where our representative will wait for you with a name sign, and transfer you to your first destination.
Day 1

Welcome to Nicaragua!|---

Welcome to the land of lakes, lagoons, rivers and oceans! Upon arrival at Managua International Airport you are met by your guide, who hands you a package with your travel details. Transfer to your hotel in Managua. Overnight.
Transfer : Managua Airport - Managua - Distance: 15 km. - Road is in very good condition.
Average travel time: 25 minutes
Destination Info: Managua
Nicaragua's capital city is home to almost two million people, and is the heartbeat of the nation's culture and commerce. Managua hosts the country's main airport and is the starting point for many Nicaraguan vacations, but it's worth spending a couple of days exploring what the city has to offer, with a vibrant dining and nightlife scene, buzzing markets and impressive revolutionary landmarks. There's a selection of good quality hotels, and popular daytrips include the nearby Chocoyero-El Brujo Natural Reserve and the spectacular Masaya Volcano National Park.


---
Hotel Los Robles
Hotel Los Robles is a small, boutique hotel which offers a peaceful retreat near the center of the city. Surrounded by attractive gardens, this colonial-style building is close to a number of restaurants and bars, whilst the city's commercial district is also easily accessible. The comfortable rooms are air-conditioned and small private patios, whilst you'll also have a swimming pool, bar and restaurant on-site.

Rooms: Double Room - Doble Superior
Day 2

San Juan River: Exuberant Nature|BLD

Transfer from Managua to San Carlos by ground transportation, the port is the regional hub to travel the Río San Juan area. Once there, you board your private boat for a scenic journey to your jungle lodge. Afternoon at leisure.
Transfer : 07:30 - Managua - San Carlos - Distance: 293 km. - Road is in good condition.
Average travel time: 5:00h
Boat : 14:00 - San Carlos - Guacimo Lodge Average travel time: 2:15h
Destination Info: Rio San Juan
The Río San Juan flows from the vast Lake Nicaragua into the Caribbean Sea. Its path cuts through thick jungle along the border with Costa Rica, passing tiny villages and through the vast Indio Maiz Biosphere Reserve, home to diverse wildlife such as toucans, eagles, caiman, turtles, tropical frogs and a variety of monkeys. For a wild and authentic Nicaraguan experience, this region should not be missed.
---
Guacimo Lodge
Located on the edge of the vast Indio-Maiz Biosphere Reserve, this rustic, sustainable jungle lodge offers the chance to connect with nature in a remote and beautiful part of Nicaragua. The comfortable bungalows and cabanas line the banks of the San Juan River, providing an open-air experience and wonderful views over the tropical forest from your private terrace. With king-sized beds, a swimming pool, yoga deck and restaurant serving local specialities, you'll have everything you need for an unforgettable jungle experience. Excursions into the nature reserve and to the picturesque town of El Castillo can be arranged locally.

Rooms: Double Room - Superior river view Bungalow
Day 3

Indio Maiz Biological Reserve - Bartola Trail|BLD

Today you visit the impressive Indio Maiz Biosphere Reserve, considered one of the best-preserved protected areas in the region of Río San Juan. During the two hours hike across the thick rainforest, you may observe green parrots, howler monkeys, alligators, and turtles. Afternoon at leisure at you riverfront jungle lodge.
---
Included Experiences
---
08:00 El Castillo - Indio Maiz: Bartola trail (Private)
From El Castillo you ride down San Juan river for about 45 minutes until you reach the Indio Maiz Reserve. The Indio Maiz Reserve is home to numerous animal pecies, among which are deer, wild boars, pumas, sloths, jaguars, manatees, howler onkeys, white-faced monkeys, spider monkeys, poison dart frogs, snakes, crocodiles, turtles, and iguanas.

You have a 2 hour hike in the rain forest, after which you jump back in the boat to witness wildlife.

After hike we take the boat and going to explore Bartola river, where you have chance for swimming in the middle of the forest.



---
Guacimo Lodge
Day 4

Guacimo Lodge - Bird Watching and Forest Trails|BLD

Before breakfast a local nature guide takes you out birdwatching. With a bit of luck you will be able to observe the conspicuous green parrot (Ara Ambigua) around giant almond trees. Your local guide introduces you to the most prevalent species of this particular ecosystem. After breakfast your guide is available to discover the trails around the lodge and other complimentary activities.


---
Included Experiences
---
09:00 Rio San Juan - Guácimo Experience
Delight in the atmosphere of this magical property, in one of the secluded destinations of Nicaragua, just next to the Indio Maíz Nature Reserve. During your stay you can enjoy on-site activities as a primary forest tour or a night tour; besides off-site activities as a visit to El Castillo town, a tour in Bartola or Sarnoso rivers, a Cacao tour, or visit to the pristine Indio Maíz Nature Reserve. Pick the activities that interest you the most.
---
Guacimo Lodge
Day 5

Visit El Castillo and travel on to Apoyo Lagoon|B--

After breakfast you continue with an on-route tour to the charming settlement of El Castillo, where you visit the historic La Inmaculada Concepción Fortress, and the surrounding picturesque pedestrian streets. You continue to San Carlos, to have a lunch with a stunning view, then head to Apoyo Lagoon by ground transportation.
Boat : 07:30 - Guacimo Lodge - San Carlos Average travel time: 2:15h
Transfer : 10:00 - San Carlos - Apoyo Lagoon - Distance: 310 km. - Road is in very good condition.
Average travel time: 4:30h
Destination Info: Apoyo Lagoon
Formed some 20,000 years ago, this giant volcano crater lake is one of Nicaragua's most beautiful natural landmarks. Tropical dry forests surround crystal-clear waters, making it a place of great serenity and incredibly diverse wildlife, including iguanas, hummingbirds and howler monkeys. Although the area is a protected reserve, you'll find some excellent eco-friendly lodges around the shores of the lake, and there are great opportunities for hiking, swimming, kayaking and diving.
---
Included Experiences
---
El Castillo - City tour
El Castillo, a charming little town at the shore of the San Juan River is home to the historic old fortress Inmaculada de la Concepción, an important national monument. These days it houses a fascinating museum that is well worth a visit. Admire the marvelous landscapes from the top of the fortress which affords panoramic views of the town, winding river, surrounding farmland and forest.


---
Pacaya Lodge y Spa
Located on the rim of the Apoyo Lagoon, the luxury Pacaya Lodge boasts stunning views over the forest canopy to the crater lake, with Granada and Lake Nicaragua just visible in the distance. The comfortable rooms feature furniture, art and decor created by local artists, as well as private balconies with panoramic views. With ingredients sourced from local farmers, Pacaya offers a memorable and unique culinary experience in a casual open-air restaurant, whilst the on-site spa offers a range of massage, facial and body treatments. You'll also be able to use the yoga deck and infinity pool, as well as arranging tours into the surrounding nature reserves.

Rooms: Double Room - King room
Day 6

Nature day at Apoyo Lagoon|BL-

Be prepared for a spectacular nature walk at Apoyo Lagoon Nature Reserve, with a local naturalist guide. During the walk you may observe howler monkeys, white faced monkeys, green iguanas, hummingbirds, golden orioles, and many other species of resident birds. After your hike and a delicious lunch at a waterfront local restaurant, and enjoy the rest of the afternoon at leisure.


---
Included Experiences
---
Apoyo Lagoon - Nature Hike
Hiking in the forest that surrounds the Apoyo Lagoon is a magnificent way to see the area's diverse flora and fauna. No less than 225 bird species have been documented here, including hummingbirds, golden orioles, toucans, and falcons, whilst you may also spot howler and white-faced monkeys, iguanas and the blue morpho butterfly. Leaving early in the morning, when the forest is at its most active, you'll be joined by an expert local guide who'll help you spot and identify the wildlife along the way.
---
Pacaya Lodge y Spa
Day 7

Mombacho Volcano Natural Reserve and Morgan's Rock Hacienda and Ecolodge|BLD

Your next destination is a spectacular ecolodge, constructed in a different environment altogether, a marine ecosystem. On route to the Pacific, you visit Mombacho Volcano Natural Reserve for a nature walk around the crater, through coffee plantations and cloud forest. At the resort, you have the chance to relax and enjoy the intimacy of this very special place, where the forest actually meets the beach. Overnight at Morgan's Rock.

Transfer : 10:00 - Apoyo Lagoon - San Juan del Sur - Distance: 97 km. - Road is in good condition.
Average travel time: 1:45h
Transfer : 11:00 - Ext. Morgan´s Rock - Distance: 12 km. - Road is in good condition.
Average travel time: 25 minutes
Destination Info: San Juan del Sur
Once a quiet fishing village, San Juan del Sur has grown into one of the most popular beach destinations on Nicaragua's southern Pacific Coast. Happily, the town has maintained much of the charm and laid-back atmosphere which made it famous, and the surrounding area remains as beautiful and wild as ever. The picturesque half-moon bay is ideal for swimming, and there are some lovely hotels and restaurants along the waterfront. The town is an excellent base for exploring other less known beaches in the region, some of which are great for surfing almost year-round. Other activities, some seasonal, include snorkeling, diving, sailing, whale-watching and zip-lining.
---
Included Experiences
---
08:00 Mombacho Volcano - Crater Trail (On-route)
Journey into the lush cloud forest around the majestic Mombacho Volcano, spotting wildlife and taking in the incredible panoramic views from the top. After travelling to the Mombacho Nature Reserve, you'll begin to climb the volcano by 4x4 truck, stopping for a delicious local coffee at one of the plantations along the way. Once near the top you'll enjoy a short, guided hike along the trail, passing through a variety of landscapes - keep an eye out for the howler monkeys and white-faced monkeys, sloths, dart frogs, and the endemic Mombacho salamander along the way. Once at the peak, you can enjoy views over Granada, the Las Isletas archipelago and Masaya Volcano.
---
Morgan's Rock
Thirty minutes north of San Juan del Sur, Morgan's Rock sits on a crescent-shaped beach with an estuary leading into a tropical forest. The setting is stunning, and you'll cross over a canyon to get to the rustic wood and stone bungalows, which overlook long stretches of private beach and offer all of the comfort you'd expect from a high-end hotel. The bungalows all feature private terraces, many with their own plunge pools.

The hotel is run sustainably, with much of the food served in their excellent restaurant coming directly from the farm which also operates here, and they work closely with the local community. During your stay you can explore the area, relax on the beach or by the pool, or take part in a large selection of tours and activities available on-site. It's a wonderful spot for a little tropical relaxation by the Pacific.

Rooms: Double Room - Ocean view bungalow
Day 8

Morgan's Rock Experience|BLD

Today you can either relax at the beach, or discover the tropical dry forest around the lodge. What about ´breakfast on the farm´, or to participate in nature interpretation excursions or reforestation programs. In season, from August to January, you might even witness the nesting of the Olive Ridley sea turtle.
---
Included Experiences
---
09:00 San Juan del Sur - Morgan's Rock Discover Experience
During you stay at Morgan's Rock, a secluded paradise, on the basis of the full board Discover Package, you will be able to enjoy activities that mix with the idyllic setting, as the following. One activity per day of stay needs to be chosen:

Breakfast at the Farm; Organic Farming; Hacienda Experience; The magic of Reforestation; Birdwatching; Horseback Riding; Monkey & Sloth Quest; Sunset on the Hill Hike; Pluma Hike; Las Tinajas Hike; Jungle Walk; Jungle Night Walk; Catch your Shrimp; Catch your Mullet or Mangrove Kayaking.


---
Morgan's Rock
Day 9

Colonial History of Granada & Las Isletas Archipelago|BLD

After breakfast you continue your journey to the colonial town of Granada, where you enjoy a stroll through Granada, after which you continue to a local port at Lake Cocibolca, a large freshwater body that hides an archipelago of over 300 islets of volcanic origin; Las Isletas de Granada. Your high-end resort at one of the islands, allows you to experience the environment of this unique freshwater ecosystem.
Transfer : 07:00 - Ext. Morgan´s Rock - Distance: 12 km. - Road is in good condition.
Average travel time: 25 minutes
Transfer : 08:00 - San Juan del Sur - Granada - Distance: 98 km. - Road is in good condition.
Average travel time: 2:00h
Transfer : 16:00 - Ext. Marina Cocibolca - Distance: 5 km. - Road is in good condition.
Average travel time: 10 minutes
Boat : 16:30 - Granada´s Asese Port - Jicaro Island
Destination Info: Isletas de Granada
Located near to the shores of the vast Lake Nicaragua and created by a pre-historic eruption of the nearby Mombacho Volcano, Las Isletas are one of the country's most attractive natural highlights. An archipelago of 365 small islands scattered around the Asese peninsula, here you'll find a mix of tiny fishing communities, stunning private homes, and beautiful resorts and eco-lodges. The flora and fauna of the archipelago is remarkable, and best observed from a private deck, by motorboat, or by kayak slowly paddling around the islands.
---
Included Experiences
---
09:00 Granada - Stroll in Colonial Granada
Explore Granada's gorgeous historic center on foot, learning about the town's rich history and beautiful colonial architecture. Along with your local guide, you'll discover key sites including the old city walls, San Francisco Convent and La Merced church, where you can climb the bell tower and enjoy spectacular views over the town, Lake Nicaragua, and Mombacho volcano. After a visit to the local cigar factory, you'll finish at the Tio Antonio social centre - an initiative to create employment for people with disabilities, where you can enjoy a coffee and learn the hammock making process. It's a great way to introduce yourself to this magical city.
---
Jicaro Ecolodge
Jicaro Ecolodge is one Nicaragua's most upscale and sustainable nature resorts, located on a private island in Lake Nicaragua and blending seamlessly into the natural beauty that surrounds it. Guests stay in one of nine luxury private casitas overlooking the lake, each one with a canopy bed, private bathroom and veranda. Built using local materials, both the casitas and the communal areas give a sense of indulgence and authenticity. During your stay, you can choose to relax in jungle-like surroundings at the pool, enjoy the lodge's spa treatments, take a yoga class or join one of the many activities and tours on offer. It's an island experience filled with peace, tranquillity and luxury.

Rooms: Double Room - Bungalow
Day 10

Jicaro Island Experience|BLD

Day at leisure to enjoy the amenities of your lodge, to relax at the pool with amazing vistas, go birdwatching, or to paddle though the archipelago by kayak.
---
Jicaro Ecolodge
Day 11

End of your Nicaragua experience|B--

Adjusting to your travel plans, you are transferred to Managua International Airport for your outbound flight. We trust a transformative experience at the different aquatic ecosystems of Nicaragua allowed you to reconnect with the essence of nature, wellbeing and happiness.
Boat : Jicaro Island - Granada´s Asese Port Average travel time: 10 minutes
Transfer : Ext. Marina Cocibolca - Distance: 5 km. - Road is in good condition.
Average travel time: 10 minutes
Transfer : Granada - Managua Airport - Distance: 51 km. - Road is in very good condition.
Average travel time: 1:00h
Drop off point: Managua Airport - International Flights

Upon arrival at the Augusto Cesar Sandino International Airport in Managua, head to the check-in counter. Pass through security and onward towards your gate and outbound international flight. There are no fees to be paid, unless your departure tax (42 USD) is not included in your ticket. Facilities within the airport include a bank, restaurants, bars, souvenir shops, duty free shops, and a VIP lounge (charges apply).
Sustainability
CO2 compensation
In this reservation you traveled 898 km approximately. This produces 87.73 kg of C02. It takes 5.77 trees to compensate for the environment impact.
Our sustainable suppliers
Water Refill Point
Guacimo Lodge : Guacimo Lodge minimizes use of plastic products as plastic bottled water. It also minimizes use of non-recyclable products. Therefore, it also provide purified water dispensers for water refill
Morgan's Rock
Community based tourism
Jicaro Ecolodge : Hiring of a local staff is essential to the success of the lodge. We want to spread the potential wealth that tourism brings to Nicaragua by hiring locals as employees, subcontracting services locally and buying and producing locally.
Renewable energy
Guacimo Lodge : Guacimo Lodge uses solar energy for pumping water, lighting rooms and common areas and make kitchen appliances work.
Morgan's Rock : Solar panels are used to heat the bath water.
Nature Conservation Project
Guacimo Lodge : Guacimo Lodge is working in ways to expand the critical habitat for the species that live here. The Indio Maiz buffer zone corridor project connects Guacimo Lodge's 50 hectares of protected forest with the greater reserve through a corridor enabling animals to find sufficient feeding. It also allows protection of endangered tree species as the mountain almond tree, which is essential to the survival of the great green macaw.
Morgan's Rock : Morgans Rock is located on a 4,446-acre farm of which 1,976 acres are conserved primary forest and the remaining 2,470 acres have been planted with 1.5 million timber and fruit trees in order to recreate a natural habitat for many species that were endangered.
Jicaro Ecolodge : Harmony with nature and the local community were a key consideration in the development of Jicaro Island Ecolodge. The hotel was built with minimum impact to the island and with very careful planning in terms of water supply, waste water treatment and electricity usage. The team in charge of the management of Jicaro has a 12 year track record running ecolodges and sustainable hotels in Costa Rica and has brought this accumulated know how to Nicaragua.


Note: Alternative hotels will be booked if quoted properties are unavailable at time of booking, possibly affecting provided net rates. We accept credit card payments up to a maximum of 1000 USD, without a surcharge. For larger sums we encourage payment through wire (bank) transfer. The quoted itinerary is subject to change, due to possible unforeseen circumstances.
Included
Meet & greet
Information package with maps and a detailed itinerary
Reusable bottle
Lodgement at hotels as mentioned or similar
Breakfast
Lunch on indicated days
Dinner on indicated days
Transfers
Tours mentioned with an English speaking guide + entrance fees.
VAT / taxes
Not Included
International flights
Meals other than mentioned
Migration fees
Personal expenses
Optional tours/activities
Tips nor porters
---
Contact details Vapues Travel
Nicaragua: Los Robles, casa # 45
Phone: (+505) 2270-1936
info@vapues.com